Our CBD Balm is a potent, all-natural skin product that smells wonderful and will soothe your skin. Our CBD Balm brings together the incredible properties of cannabidiol with all-natural essential oils for the ultimate soothing effect.
This topical CBD balm is formulated with moisturizing ingredients like shea butter and jojoba seed oil, essential oils, and 400mg of CBD. Apply a little or a lot, anywhere needed throughout the day. Our potent CBD Balm wears many hats, and will have you coming back for more.
Suggested Use: Apply throughout the day as needed.
INGREDIENTS: Grapeseed Oil, Beeswax, Lavender Flower Essential Oil, Vitamin E, Sunflower Seed Oil, Jojoba Seed Oil, Shea Butter, Rosehip Seed Oil, Meadowfoam Seed Oil, Calendula Flower Oil, Olive Oil, Tea Tree Leaf Oil, Roman Chamomile Oil, German Chamomile Flower Oil, Hemp Extract
5 things you should know about our CBD Balm
Here is everything you need to know about our CBD Balm. If you're looking for a topical salve, look no further! Our CBD Balm wears many hats and is sure to impress. Loaded with ingredients you can't resist, and an aroma that will take you to a relaxing place, this CBD Balm is ready to rock your world in all of the best ways.
1. All-Natural CBD Balm
This potent CBD Balm is packed full of ingredients, but you won't find a single chemical in our blend. Why? Because we love going "au naturale." When it comes to putting anything on your skin, you want the highest quality ingredients that are both nourishing and beneficial. With what seems like a million options on the market, you'll want to do your own research to find the best option for you and your family. Typically, that starts with what's in the product. Our CBD Balm is full of ingredients that you're going to love.
2. What's in our CBD Balm?
Let's just start from the top! This all-inclusive list of ingredients in our CBD Balm will have your skin begging for more. Take a look at what each ingredient can do for your skin.
Grapeseed Oil – Great for moisturizing skin and is considered lighter than coconut oil and is non-comedogenic.

Beeswax – Helps skin stay hydrated and creates a protective layer over the skin.

Lavender Flower Essential Oil – Gently moisturizes skin and adds to the wonderful smell of our CBD Balm.

Vitamin E – Helps to protect your skin against sun damage.

Sunflower Seed Oil – Another great non-comedogenic oil in our CBD Balm blend.

Jojoba Seed Oil – Have we mentioned our CBD Balm is moisturizing, moisturizing, moisturizing? Say goodbye to dry skin!

Shea Butter – Commonly used in lotions.

Rosehip See Oil – Loaded with fatty acids to help rejuvenate the skin.

Meadowfoam Seed Oil – Seals in moisture and leaves skin feeling smoother.

Calendula Flower Oil – Natural oil extracted from marigold flowers with a woodsy smell.

Olive Oil – An age-old oil used in many skin care products.

Tea Tree Leaf Oil – Tea Tree is grown off the Australian Coast and was discovered in the eighteenth century by sailors. The essential oil extracted from its leaves is a very popular addition to many skin care products.

Roman Chamomile Oil – The more popular of the chamomile essential oils, and an extremely versatile oil for skin.

German Chamomile Oil – Great for dry, cracked skin.

CBD – Of course, we saved the best for last!
3. CBD
In our opinion, this is the most important ingredient of them all. This is also the ingredient that you want to heavily research the most. It's of the utmost importance to make sure that the CBD Balm you're looking into has the highest quality cannabidiol (CBD) used in it. That includes taking a look at the type of CBD used, and 3rd-party lab results. The world of CBD can often times be hard to navigate, and it's not unusual to have a lot of questions. When looking at the certificates of analysis (CofA's), there are several things you're looking for. First, you want to make sure the hemp used to make the CBD Balm is free of pesticides and heavy metals, and mycotoxins. And that the content of the CBD in the product lines up with what is being advertised on the label. Transparency is key here, the more information provided, the better. Our CBD Balm contains 400mg of CBD in our 2oz jar. That's pretty potent if you ask us.
4. Who Can Use This CBD Balm?
Simple, anyone can use our CBD Balm! We've formulated this product to be extremely versatile for all skin types and ages. There's not a person on this earth, we don't think would benefit from the moisturizing ingredients in our CBD Balm. It doesn't matter who, what, when, or where. How does the song go? Head, shoulder, knees and toes... In all seriousness, we chose our ingredient list to be of the utmost quality so you can feel at peace when using our CBD Balm on your skin.
5. Where to Apply This CBD Balm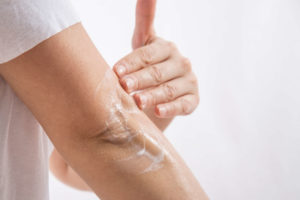 We won't start singing again, but this CBD Balm was meant to be used anywhere. (except for eyes and mucus membranes) Apply our CBD Balm to hands, elbows, knees, back, etc. and let the magic happen. Now remember this CBD Balm is a salve, not a lotion. It is oilier in consistency and doesn't rub in immediately like a lotion. It's meant to make a barrier on the skin, and slowly absorb. But that doesn't slow the magic down. Apply our CBD Balm to your skin throughout the day as needed.